Last summer, in the space of a month, I ran three separate items about messages in bottles (look here, here, and here). Now, as you can see above, we have another one. This one was recently discovered on Martha's Vineyard, where a man named Keith Moreis found it.
This one is a drift bottle — a tool used by scientists to help track the ocean's currents. People who found the bottles and followed the pink card's "Break This" instructions would find the following documents inside:
The kicker is that this may have been the very last drift bottle ever cast into the sea by the United States government. Get the full story on that here.
+ + + + +
The letter and money order you see above, both of which are nearly 100 years old, were found amidst a pile of mail that a Canadian man named Larry McLean recently discovered under his front porch. McLean had lived in his house for 35 years without realizing the treasures were hiding right under his nose. He found the mail when pulling out his porch during some home renovations. The letters were addressed to a family that had lived in McLean's house a century ago.
Many of the letters were sent to or from a family member who had enlisted and been sent to Europe during World War I. Get the full story here.
+ + + + +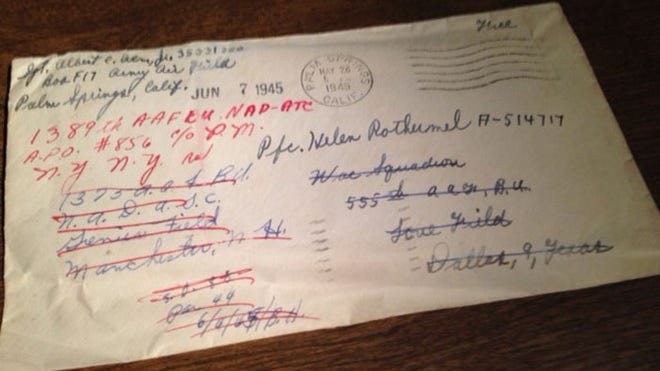 The letter shown above, which carries a 1945 postmark, was recently found by a Dallas woman named Shelia Polk, who discovered it inside an old book she had purchased at Goodwill. She initially refused to open it, because the letter was "personal." But after ascertaining that both the sender and recipient were deceased — and after consulting the U.S. Postal Service, which gave the go-ahead -— she opened the envelope and found a love letter from one military member to another. Unfortunately, it appears that the couple in question never formed a lasting bond.
(My thanks to James Poisso and Jim Borwick for alerting me to these stories.)