What you see above is a paper airplane that was found by the bohemian eccentric Harry Smith (best known for his highly influential Anthology of American Folk Music). As you can see, Smith annotated the plane with particulars of where and when he found it: Fifth Avenue between 17th and 18th Streets in New York City, and Sept. 6, 1978.
This is one of about 250 paper airplanes that Smith found, kept, and catalogued from 1961 through 1987. They're currently on file at the Getty Research Institute, which acquired Smith's papers after his death.
At first glance, paper airplanes don't seem as evocative as old snapshots, messages in bottles, or most of the other found objects we've discussed here on Permanent Record, because they don't have anyone's name or image on them. But some of them still have interesting stories to tell. Take this plane, for example: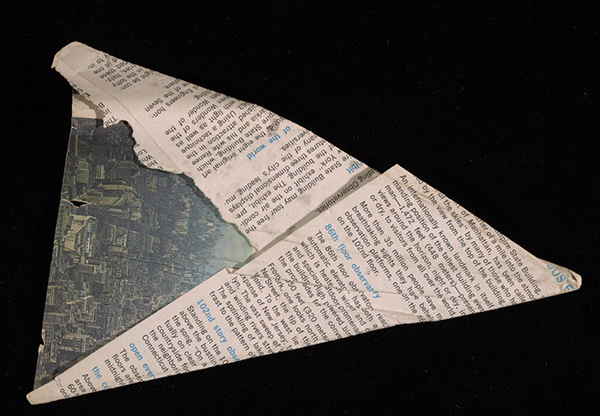 That plane was made from a flier describing the view from the top of the Empire State Building. Smith found it near the skyscraper in 1968 — someone probably launched it from the observation deck.
And then there's this one: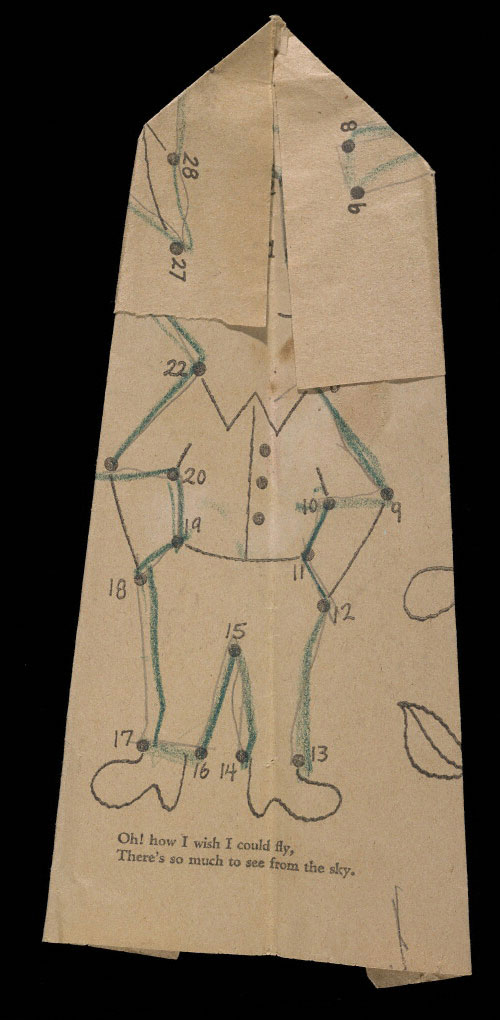 As you can see, that one is a connect-the-dots illustration of a child, captioned, "Oh! How I wish I could fly, There's so much to see from the sky." How perfect is that for a paper airplane?
For more on Smith's collection of paper airplane finds, look here.
(Special thanks to my friend Miriam Sicherman for letting me know about this one.)